More recently Richard has been working in the electronica field with Paddy Free of Pitch Black, and has performed with the Australian Art Orchestra. A CD Karekare: Te Reo o te Whenua by Paddy Free & Richard Nunns was released in July 2008.
Contemporary Maori music
Ipurangi Richard is one of 4 tradtional Maori instrument players and 2 singers blending tradtional and contemporary Maori material with the sounds of an ancient sound world.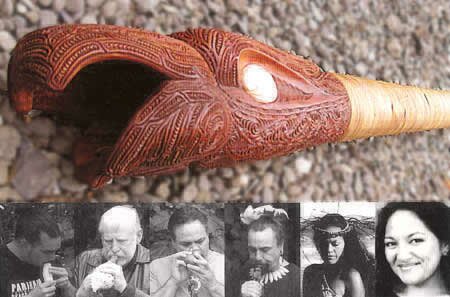 Whaea, Ariana with Richard Nunns and band Dunedin Public Art Gallery, 2002 We were greeted by the gentle but full textured voice of this humble girl from Rapaki as she performed her waiata 'Whaea'. Beside her was Richard Nunns, one of the countries foremost experts in taonga puoro or traditional Maori instruments. It was a joy to hear traditional and contemporary instruments coupled with what one of my cousins would call a 'stunning' voice. The sense of light and airy was not only echoed in the venue and the koauau but also in the wairua of what I can only call Maori folk and contemporary Maori reggae. Te Panui Runaka Moana and The Moa Hunters When I play with Moana and The Moa Hunters she plays to audiences of between 10-14,000 people at times. So the instruments are out there in front of a lot of young disaffected Maori who have got their hats on backwards going 'Yeoow man!' and the whole black American cultural attitude. Whereas they have this extraordinarily rich culture here, and groups like Moana and The Moa Hunters are finding ways of taking that and placing it in a contemporary context that is entirely legitimate. Richard Nunns